The St. Baldrick's Foundation, a volunteer-driven organization dedicated to raising money for children's cancer research, will host one of its signature head-shaving events at
Chicago Naperville Marriott
1801 N. Naper Blvd., Naperville
Saturday, March 19, starting at 5 PM
You can do great things for kids with cancer, and start a ripple effect that will change the world. Make a donation today!
Enjoy the Video!
For more information, see article below.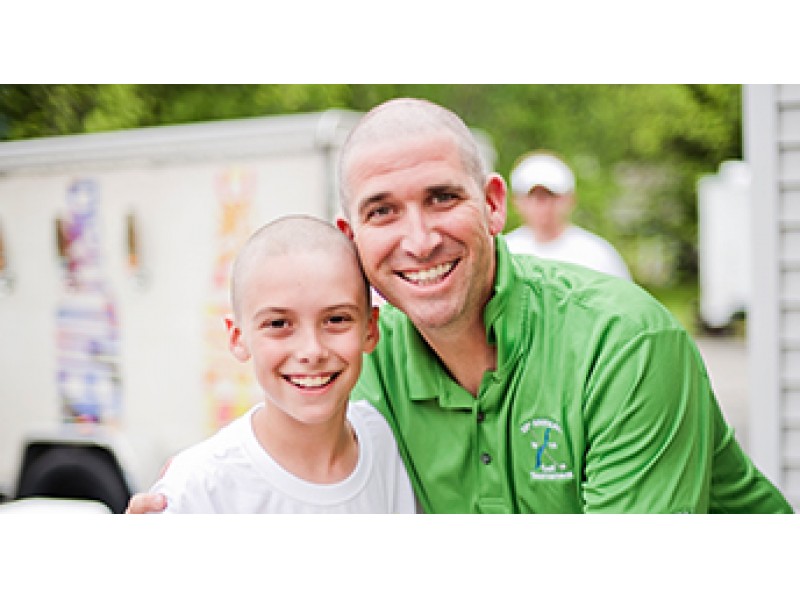 Photo courtesy of the St. Baldrick's Foundation.
NAPERVILLE, IL — The St. Baldrick's Foundation, a volunteer-driven organization dedicated to raising money for children's cancer research, will host one of its signature head-shaving events at Chicago Naperville Marriott, 1801 N. Naper Blvd. Naperville on Saturday, March 19, starting at 5 p.m.
During the Naperville Public Safety St. Baldrick's event, almost 60 shavees will brave the shave in solidarity with kids with cancer and raise money to conquer childhood cancers, according to a release from the Naperville Police Department in conjunction with the St. Baldrick's Foundation.
Why all the shaved heads? Worldwide a child is diagnosed with cancer every three minutes, and one in five children diagnosed in the U.S. will not survive, the release said. With only 4 percent of all federal cancer research funding dedicated to pediatric cancer research, St. Baldrick's Foundation volunteers, supporters and donors are needed to continue the battle against this devastating disease.
Doors will open at 5 p.m. for the event, followed by the opening ceremony at 6 p.m. led by the Naperville Fire and Police Departments Honor Guards, the release said. Emcee Scott Mackay, of Radio Station 95.9 The River, will lead a program of remembrance and a celebration of survivorship before the shaving fun kicks off.
The Naperville Public Safety St. Baldrick's Event is a free family oriented evening featuring a dedicated Kid's Room and Kid's Raffle and multiple other raffles and silent auctions taking place in addition to the shaving fun.
Join Naperville's Public Safety staff in celebrating its'12th year hosting this event, which has surpassed the $1 million total raised. This milestone was accomplished after receiving more than $116,000 in donations last year.