I like this new law! :)
If you live in Illinois, starting January 1, a law to help protect pets against extreme weather and living conditions goes into effect.
Under Senate Bill 125, residents can be charged with a class A misdemeanor punishable by up to a $2,500 fine or one year in jail if a pet dies or is seriously injured as a result of improper living care.
The new year (January 1, 2016) will bring with it more than 200 new Illinois laws affecting alcohol, pie, pets, and children's safety at school.
Here are 25 of the most significant and interesting changes.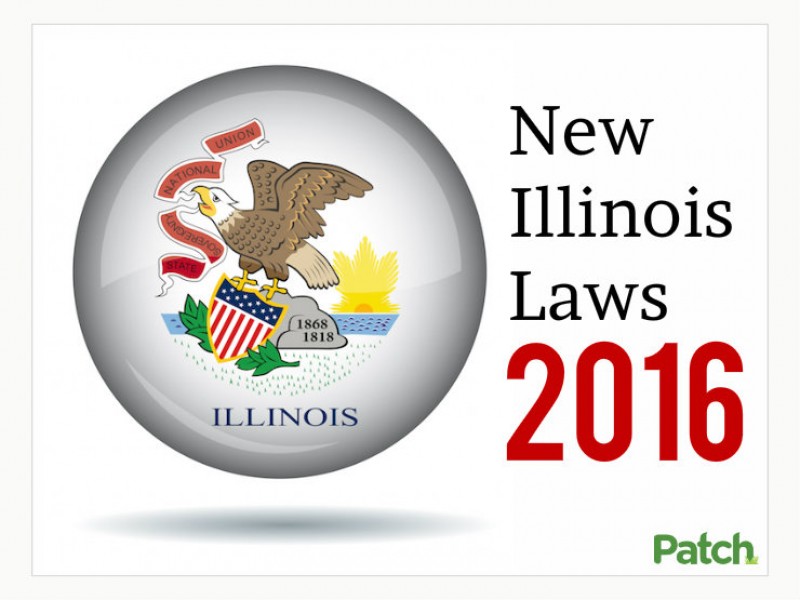 governing police, pets, drunken drivers, teen drinking, intoxicants, health, hunting, breastfeeding, the elderly, schools, divorce, child custody, driving violations, animal cruelty and more.
LAW ENFORCEMENT
Body Cameras, Chokeholds, Fired Officers and Police Reform
New law establishes rules and regulations for the use of officer-worn body cameras and implements a package of police reforms.
Body-camera regulations: Does not require police departments to use body cameras. If they choose to do so, officers must keep their cameras on when conducting law enforcement activities. Officers would be allowed to turn the camera off when talking to a confidential informant, or at the request of a victim or witness. Requires officers to let people know they are recording if they enter a home. Videos will be kept for 90 days, unless flagged for specific reasons. Allows for grants via a $5 fee increase for each $40 on criminal and traffic offenses, to go toward cameras and new training.
Police reforms: Prohibits police from using chokeholds, except when deadly force is justified; requires an independent review of officer-involved deaths, and makes investigation reports part of the public record if an officer involved in a death is not charged with a crime; expands police officer training to include topics like use of force; creates a database of officers who have been fired or resigned due to misconduct.
Fake 9-1-1 Calls
Making a phony 9-1-1 call could cost you. If one does so without reasonable grounds for making the call or transmission and further knows the call or transmission could result in the emergency response of any public safety agency, the caller could be forced to pay up. Reimbursement will be capped at $10,000.
ANIMALS
Cruelty to Animals in Front of a Child
In addition to any other penalty provided by law, a person convicted of a cruel treatment of animals violation upon a pet in the presence of a child shall be subject to a fine of $250 and ordered to perform community service for no less than 100 hours.
Humane Care for Animals
"No owner of a dog or cat may expose the dog or cat in a manner that places the dog or cat in a life-threatening situation for a prolonged period of time in extreme heat or cold conditions." You'd think that already would have been stipulated in the law, but now it is.
Bobcat Hunting
In 2000, bobcats were removed from the Illinois Threatened Species Act. Hunting of bobcats was banned in 1972. You will be able to hunt bobcats from Nov. 1 to Feb. 15.
ALCOHOL
Powdered Alcohol
You won't be able to find "palcohol," powdered alcohol, on any Illinois store shelves. The substance, which could be used to surreptitiously spike someone's drink, is banned.
Drunken Drivers
Four-time DUI convicts will be required to use an interlock device — a breath-testing contraption connected to a vehicle's ignition — for the rest of their lives. There are about 5,000 four-time DUI offenders in Illinois who are currently banned from driving. Under a new law, they may apply for a restricted driving permit if they can prove they've turned their lives around. Another conviction, however, will result in a lifetime ban from driving.
Teen Drinking
Underage drinkers who call 911 for a friend in medical need will have immunity from criminal charges. The law is designed to encourage teens not to avoid calling for emergency medical help for fear of being arrested.
SCHOOLS
High-School Concussions
All Illinois schools must have a concussion-oversight team to develop a protocol for student athletes, including education and recovery plans.
Carbon Monoxide
Carbon monoxide detectors will now be required in all schools.
School Discipline
Suspensions and expulsions in public schools will be curtailed. "Zero tolerance" can no longer rule the school. Administrators will be required to try every option before expelling a student or imposing an out-of-school suspension.
DRUGS
Synthetic Drugs
Synthetic marijuana, or K2, will be illegal. One may not possess, distribute or manufacture the synthetic drugs, nor any chemical analogs.
Medical Cannabis Pilot Program Changes
Stipulated that nothing in the law may be construed to require an employer or a property and casualty insurer to reimburse a person for costs associated with the medical use of cannabis.
CHILDREN AND FAMILY
No-Fault Divorces
Divorces granted in Illinois will be "no-fault divorces," but spouses must show irreconcilable differences after efforts to retrieve the marriage have failed.
Adoption Registry and Grandparents
Amends the Adoption Act to give birth grandparents access to the Adoption Registry and a confidential intermediary.
Keep a Camera on Grandma
Families and residents in nursing-home facilities will not be allowed to use recording devices and cameras to monitor activity in their own rooms. Now, families will legally be allowed to watch their loved ones and have a visual record of the care received.
Missing Adults
Illinois will have a new Silver Alert system to help people find missing adults who've wandered off due to dementia or Alzheimer's. These cases often end tragically. The system will be similar to the Amber Alert for missing children.
Breastfeeding at Airports
Requires airports that have more than 1,000,000 enplanements a year to provide a location, by Jan. 1, 2017, at each terminal behind the security screening area for women to express breast milk in private. The location must include a chair and an electrical outlet and be outside the confines of a public restroom. Requires smaller airports that have fewer than 1,000,000 enplanements a year to comply with this requirement upon new terminal construction, expansion or renovation.
BUSINESS
Small-Business Regulations
State agencies will be required to examine their rules, administrative regulation, and permit processes as they pertain to small businesses in order to identify unreasonable, unduly burdensome, duplicative, or onerous to small businesses.
New Business Website
Requires the Department of Financial and Professional Regulation to create and maintain a website to help anyone wishing to start a business in Illinois or relocate a business in Illinois.
HEALTH
Pill Bottles with Coded Locks
If your doctor has prescribed opioid medication for you, new caps will feature a numerical locking device with a combination.
Gay-Conversion Therapy
Sexual-orientation change efforts with a person younger than age 18 are prohibited. Advertising that represents homosexuality as a mental disease, disorder or illness is also prohibited. Violation will be an unlawful practice under the Consumer Fraud and Deceptive Business Practices Act.
AND A FEW MORE
Pumpkin Pie
Pumpkin pie will be the official state pie. Illinois is the nation's leading producer of pumpkins.
Foreign Weeds
It will be illegal to buy, sell or plant bush honeysuckle, olive, salt cedar, poison hemlock, oriental bittersweet, teasel, knotweed and giant hogweed. These plants have been added to the Exotic Weed Act.
Traffic Fines
All traffic-ticket fines are being raised by $5 to pay for equipment, such as police body cameras.