Why Rent when you can Buy!
Hello Everyone,
If you are currently renting and have thought or are thinking of buying your dream home, let me and my Dream Team help you. Call or text me at (630) 669-2401 for more information.
As you have probably heard the Welcome Home Illinois program is now closed.
Not to worry, IHDA's still has a remaining catalog of homeownership programs that will continue to be available, offering down payment assistance, lower credit score requirements, competitive interest rates and significant tax savings for first-time and repeat buyers throughout Illinois.

It's my privilege to educate you on these home buying benefits and to help make those benefits accessible and attainable to you.

I work with qualified lenders who can guide you through the quick and easy process.

Let my Dream Team and I help you. Our goal is to exceed your expectations, give you a peace of mind, keep you smiling and make sure that you enjoy the journey!
Century 21 Affiliated is known for being SMARTER, BOLDER, FASTER and HERE TO STAY. I am proud of all the training and tools I have so I can connect with the next generation of Home Buyers and Sellers.

Call or text me at (630) 669-2401 TODAY!
Top 10 Priciest U.S. Cities for Renters - November 2014
RISMEDIA, Tuesday, December 16, 2014— With the holiday season upon us, rental markets consolidated their substantial price rises over the past year. Zumper recently released the November 2014 rent report for top 10 priciest cities in the U.S. Here are the highlights: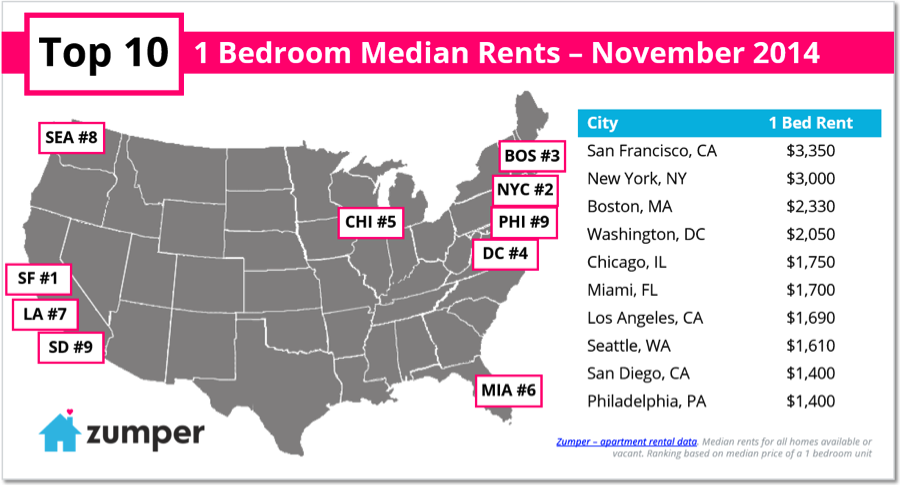 San Francisco stays at No. 1 in the rental charts. One-bedroom apartments for rent in San Francisco are the most expensive in the nation, up 8.1 percent quarter-over-quarter—one of the steepest increases nationwide. Rents in New York for example were flat over the same period.

Prices in San Francisco saw their first monthly drop (albeit limited at -0.6 percent) in 5 months, but we are nowhere near an inflection point. Prices for two-bedroom apartments increased by 2.2 percent in November as market fundamentals, such as limited housing supply, remained unchanged.

Other highlights from November:

Denver—fastest rising market. Over the last 3 months, prices for a one-bedroom apartment in Denver have risen by 9.6 percent, making the Mile High City one of the nation's fastest-rising rental markets. Apartments in the Golden Triangle, the city's most expensive neighborhood, will set you back $2,220 and $3,450 per month, for a one-bedroom and two-bedroom apartment respectively.

Philly back to No. 10. As Rocky once said, "It ain't over 'til it's over." After having been dropped from the top 10 in October, Philly came back with a punch in November, clinching the No. 9 spot back from Minneapolis, and tying with San Diego. The average rent for a one-bedroom apartment in Philadelphia soared by 7.7 percent vs. the previous month, the highest monthly increase in November.

Below is the summary from the Zumper rent tracker for 25 major US cities for the month of November: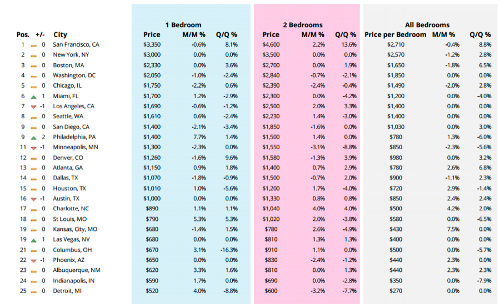 Source: Zumper