Testimonials
I would be honored and privileged to assist you
in the BUYING and/or SELLING of your home.
I will be with you all the way, during and after!
Follow me in my YELLOW CAR and
I'll lead you the way to your NEW HOME!!!
My goal is to exceed your expectations,
give you a peace of mind, keep you smiling,
and make sure that you enjoy the journey.
Looking forward to hearing from you soon!
Monica Mancano, REALTOR®, SRES®, MRP, AHWD
Century 21 Affiliated
1999 W. Galena Blvd.
Aurora, IL 60506
Click on this link: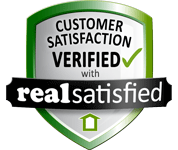 ​
​
Here are some testimonials from past Clients and Real Estate Professionals.
Jose R, Client, Seller - Thank you very much Monica for all the hard work you put into this sale. You helped us through the entire process and we appreciate it very much.
Tanya M, Seller - Monica did a GREAT JOB. Hoping to work with her again!
Aldonia S, Client, Seller/Buyer - Monica SOLD our home in 3 DAYS!
Anita M, Client, Seller - When the time came to sell my house I did not hesitate to call Monica and offer her my business. I was confident that as a Seller, she would have my best interest in mind and would represent me well. Monica listed and SOLD my home in 1 DAY! I was very impressed with her enthusiasm and making this transaction go smoothly. I highly recommend her!
Carol K, Client, Seller - Monica SOLD our home in 8 DAYS!
Anne Z, Client, Seller - "I chose my salesperson without regard to who her broker was. Broker not at all important apart from the need for integrity and legitimacy. Monica was great in every aspect, and especially patient and precise in her actions. The house was sold "as is' and it was a difficult sale with the first contract falling through. Monica displayed a high sense of ethics and integrity in dealing with us and other salespersons. She was knowledgeable about all aspects of the sales process and managed to get an astonishing number of interested persons to view the property. Personally, Monica is effervescent, kind and caring and has a great sense of humor."
Theodora Z, Client, Seller - "Monica was wonderful. This was a difficult transaction for a number of reasons, particularly given the condition of the house. Monica remained enthusiastic and motivated throughout. She was a great communicator and at all stages of the operation I felt she had matters under control. Also very pleasant and cheerful!"
James S, Client, Buyer - I was a first time home buyer and she really made the stress of all the new terminology go away. She is personable and truly cares about you finding what YOU like and can afford. You will see the moment you go to your first showing how enthusiastic she is when it comes to her job. She fights for you! Day or night, she will answer your questions, and will contract anyone you need right away. I was lucky to have found her and I recommend her to any serious home buyer!
Alvin R, Client, Renter - "Monica is very professional and truly loves her job. She is very patient and knows how to communicate. She will never leave you stranded or left with questions. If there is something she doesn't know, she will take the time to find out the answer. Call her up! She is a delight to work with!"
Winnide J, Client, Buyer - My name is Winnide and I am a Supervisor at the United States Post Office in Aurora, IL. And I recently purchased a home using Monica Mancano from Century 21 as my real estate agent. Monica has been hands on with me the moment I emailed her. Monica has spent countless hours helping me find the home of my dreams!!! My first application was denied with Quicken Loans due to rebuilding in the area of where I was trying to purchase. This came as a complete shock and without any real explanation of why I was denied besides rebuilding. Monica immediately jumped into action getting me in contact with other brokers that were more familiar with this type of situation. After talking to a few brokers, Monica and I both were satisfied with Jennifer Cannon of Avenue Mortgage. Monica and Jennifer than worked extremely hard to get me the home of my dreams. But I must say that if it was not for Monica getting me in contact with the right people I would have giving up on buying a home this year. I must say that if you are looking to buy a dream home and you want strong professional support, Monica is defiantly the person for the job!!!! I will refer all my family, friends, and co-worker's to Monica who looking to buy a dream home. Monica you "Rock." Thank you for all your help! P.S. Monica has also helped me with getting a home inspector, and an attorney to close the deal on the home.
Charles S, Client, Buyer - Monica was excellent with her abilities and knowledge of finding me the right home. I would highly recommend her again and I can't express my appreciation for her. Monica is a Military Friendly Realtor and can help other Veterans too!
Bob E, Client, Buyer - I went back to Monica based on my experience with her 2 yrs ago. Monica was great to work with and very attentive to my family needs.
Curtis W, Client, Buyer - You are the best, your personality, attitude, commitment and dedication are excellent. You are honest, trustworthy and caring. No matter how much we bugged you, you were there with a smile and always on point. You are a wonderful person inside and out, we thank you for all your help. This is our personal survey to you.
Rachel F, Client, Seller/Buyer - Monica Mancano did an amazing job selling our home with open houses and online marketing. She sold our home in 9 days! She also helped us buy our dream house. The entire process of selling and buying was easy and stress free because of her help.
Yesenia M, Client, Buyer - Monica is the best!!! She is always on top of things, always gets back to me ASAP! And she always find a way for everything. I wouldn't trade her for anyone else! :)
Signe H, Client, Buyer - I LOVE MY NEW HOUSE!! Thank you for all your hard work to help me and my daughter find our DREAM house! I'm so glad you were with me every step of the way!
Sue H, Client, Buyer - The first time I came into town to look at homes, Monica showed us homes and I found my dream house! Loved Monica, she was so helpful and professional... Absolutely loved her!
Donell L, Buyer - Loved working with Monica. Will definitely refer people to her.
Atty. Jeffery L. McElroy, McElroy Law Office, Real Estate Professional - I have had the pleasure of working with Monica on a number of real estate transactions. I found the experience to be refreshing to work with a Realtor that was responsive, as well as helpful at getting the transaction to the closing table. Monica is a strong advocate for her Clients and sincerely wants to help Clients accomplish their real estate goals.
Matt Paradis, Vice President of Mortgage Lending (Guaranteed Rate), Real Estate Professional - I have known Monica since she started in the Real Estate business, I get to see a lot of Realtors in action as I am a Mortgage Lender. She has always been eager to learn and eager to help her Clients get what they want out of a home sale or purchase. No matter what end of the spectrum you are at, buying your first home or ready to down size, I know that Monica will listen and learn what your wants and needs are and give you her all to take care of you and your family. I still remember how exited one of her Clients was, a young lady buying her first home. She was excited because of how hard Monica worked to find her dream home that fit her budget.
Kara Morris, Castle Bank, Real Estate Professional - As a local Lender, I'm always looking for quality Realtors to partner with to help Clients reach their dream of home ownership. Monica is one of those quality Realtors. Monica brings a listening ear to my Buyer Client that helps her guide them to that perfect home. It doesn't matter if it's your 1st home or your last one, Monica can help you find it. She has a great attention to detail which makes my job as a Lender so much easier. She is aware of the process from start to finish and keeps the communication going both ways. I highly recommend Monica for all your real estate needs.
Dan W, Client, Buyer - I just wanted to let you know just how great it was having you as my Realtor. I've worked with quite a few over the years, and you've been the best I would refer anyone I know to you. You made everything so very easy and were always there to answer any questions I had, promptly. You even set up the home inspection for me, and that was a first by any Realtor I've ever worked with in the past. Thanks again for everything, you're the best! Dan :)
Alejandra L, Client, Buyer - How to start I didn't know how... but someone did and that was Monica @ Century 21, she showed me what was out there for me. I have such a crazy work schedule that I never had the time during the day to be able to see properties and even do any research to see what I really wanted. She was able to coordinate with my hours and was able to show me properties that I enjoyed and some that just did not catch my attention. After looking for a month or so, she finally made my dream happen ,we found my dream home. As excited as I was there was more to the process than just getting a contract accepted, the mortgage, inspection and closing process. But with Monica I had nothing to worry about because she has her "Dream Team" the people that make it happen like they made it happen for me. Its not just a dream it was my goal to have my first home and without her I could not of reached this point of being a proud home owner. Thank you Monica and the Dream Team!
Verdia01, Client, Renter - I absolutely love Monica! She worked hard for me and my family. Most realtors, in my experience, don't work hard to help people looking for rentals, but Monica worked like we were buying a million dollar home. She scheduled appointments quickly and was a pleasure to communicate with. She made herself available to us 7 days a week. She was always upfront and honest with us. She even went to bat for us when someone tried to cheat us out of money. I will definitely use her again.
Lizabeth S, Client, Buyer - I am a single mother of 2 boys and I was a first time home buyer, and had NO idea where to start. Monica not only was ALWAYS available when I had time to look at houses, but she quickly became a part of the family. My 2 year old and 4 year old would constantly ask when we got to go look at houses so they could see Monica. That alone made the process so much easier and less stressful. Monica was just as excited as I was when I found my dream home. Without Monica I would never have been able to purchase this home and been as excited about it as I was! Thank you Monica! You are great!!!
smr92158, Client, Buyer - Monica was very helpful, patient and worked hard to show us the properties we wanted to see, up until the time we found the home we love. We would highly recommend her to anyone looking for a home.
Karen Claus, RKC Professional Radon Testing, Real Estate Professional - I first met Monica last year when I performed a Radon Test for one of her clients who was buying a home in Plano. I have met hundreds of Realtors in my many years of testing but I could sense immediately that Monica is a true professional who cares about her clients and their needs. Even though my testing only takes a few minutes, she made sure that she was there to support her client every step of the way. She made the communication process between myself, her client and the seller very easy. She was very concerned about the potential of radon in the home and helped her buyer feel at ease. I would highly recommend Monica for all your real estate needs.
Click on this link: Real Satisfied Surveys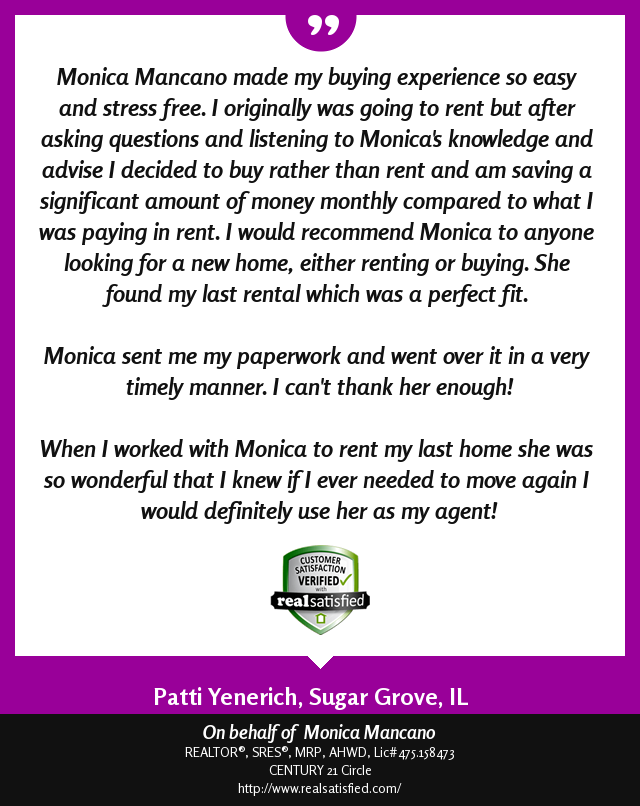 Monica Mancano
REALTOR®, SRES®, MRP, AHWD
Century 21 2017 Media Sizzle
Communities
Cities
Neighborhoods
Century 21 0 2017 Media Sizzle