It's Friday the 13th today!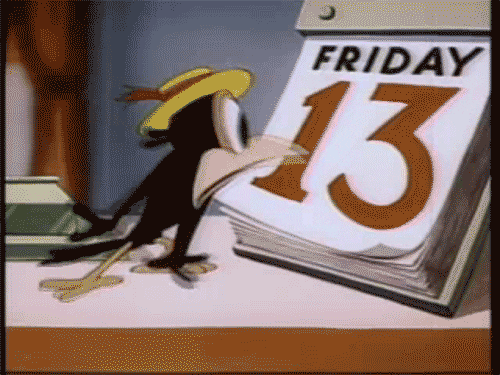 Did you know that
the Fear of Friday 13th even has its own name?
Paraskevidekatriaphobia
Paraskevidekatriaphobia: Fear of Friday the 13th.
The word "paraskevidekatriaphobia"
was devised by Dr. Donald Dossey
who told his patients that
"when you learn to pronounce it, you're cured!"
You may avoid walking under ladders,
have never crossed paths with a black cat
or have a lucky pair of socks,
but have your superstitions
affected your real estate decisions?
I hope not!
In honor of Friday the 13th,
the most popular superstition in the world,
here's a look at some of the irrational fears
that can make buyers or renters
take drastic measures to avoid potential misfortune.
Click on this link:
5 Killer Real Estate Lessons We Learned From 'Friday the 13th'
What are some of your superstitions?
Whether you're thinking about
SELLING and/or BUYING a home,
it can be quite the adventure,
which is why you need
an experienced REALTOR®
to guide you on the path
to achieving your goal.
Let's get together
to discuss exactly
what's going on in your area,
TODAY!
Call/text me at
(630) 669-2401
or email me at
mmancano@c21affiliated.com
My Real Estate Dream Team
And I Are Here For YOU!
April SHOWINGS bring May CLOSINGS!
Monica Mancano, REALTOR®, SRES®, MRP, AHWD
Century 21 Affiliated
1999 W. Galena Blvd.
Aurora, IL 60506
Check out Century 21's
'Based on a TRUE FEELING'
YouTube Video!
Search for homes
right from my FACEBOOK PAGE!
Click on this link: HomeASAP
p.s. Sellers feel this way too!
Don't let the HOUSE of your DREAMS get away!
Century 21 Affiliated SELLS more properties
than any other Century 21 company!