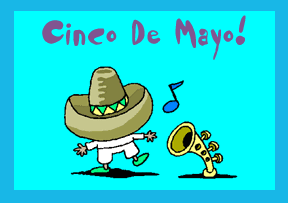 Happy Cinco de Mayo!
Juan Pablo Loza, executive chef at the Rosewood Mayakoba hotel in Mexico,
is in the TODAY kitchen with Al Roker to demonstrate
how to make some easy finger foods to help you celebrate Cinco de Mayo.
Click Here for Recipe: http://on.today.com/2q74WZs
Put a spin on your tacos this #CincodeMayo with these recipes at your next party.
Click Here for more Recipes: #CincodeMayo!
Don't feel like cooking?
Check out FIRST FRIDAYS!
It is back and it's even bigger!!!
Celebrate Cinco de Mayo with
food, music, free trolleys and more
at First Fridays in downtown Aurora.
We'll have more food trucks and more room!
This year, the festival moves one block south to Benton Street.
May 5 activities:
Food Trucks from 5 PM to 10 PM!
(on Benton Street from River Street to Water Street)
Visit SciTech!
Play near the Swimming Stones!
Eat on the street!
Live music from 6 to 10 PM
at Millennium Plaza on Stolp Avenue feat.
Sones de México Ensemble at 6 PM
and James Sanders' Conjunto Latin Jazz at 8 PM.
First Fridays art, music, & more
at various venues throughout downtown Aurora
from 6 PM to MIDNIGHT!.
Two trolleys
running from parking lots to the festival.
Celebrate Cinco de Mayo and the Food Truck Festival
at this month's First Fridays in Aurora, IL!
Click Here: Food Truck Festival
First Fridays is art, music, dancing, theater, and more!
Visit participating venues and
explore downtown on the first Friday of the month.

Party On!
25 Years of Wayne's World continues at First Fridays on May 5.