Today, I turn 45 again!
And all I want for my birthday
are MORE REFERRALS!
Do you know someone who is looking to
BUY, SELL, or INVEST in Real Estate?
Even if they are not in Illinois,
Century 21 Affiliated and I
can help them wherever they are.
Our team consists of
over 2400 experienced professionals
covering Illinois, Wisconsin, Indiana, Michigan,
Minnesota and now Florida!!!
Please call/text me at
(630) 669-2401
or email me at
mmancano@c21affiliated.com
with their contact information and
I will be sure to reach out to them promptly.
REFFERALS
are much more than business to me,
they're the highest compliment
I can ever receive!
Monica
Are you wondering
what your home is worth
in TODAY'S MARKET?
Use our FREE ESTIMATOR
to get a FREE
estimated market value of your home
or a home you are interested in!
Click on this link: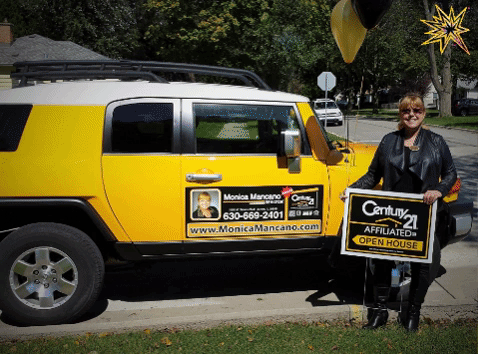 Whether you're thinking about
SELLING and/or BUYING a home,
it can be quite the adventure,
which is why you need
an experienced REALTOR®
to guide you on the path
to achieving your goal.
Let's get together
to discuss exactly
what's going on in your area,
TODAY!
Call/text me at
(630) 669-2401
or email me at
mmancano@c21affiliated.com
My Real Estate Dream Team
And I Are Here For YOU!
Follow me
in my YELLOW CAR and
I'll lead you the way
to your NEW DREAM HOME!!!
April SHOWINGS bring May CLOSINGS!
Monica Mancano, REALTOR®, SRES®, MRP, AHWD
Century 21 Affiliated
1999 W. Galena Blvd.
Aurora, IL 60506
Check out Century 21's
'Based on a TRUE FEELING'
YouTube Video!
Search for homes
right from my FACEBOOK PAGE!
Click on this link: HomeASAP
p.s. Sellers feel this way too!
Don't let the HOUSE of your DREAMS get away!
Century 21 Affiliated SELLS more properties
than any other Century 21 company!