­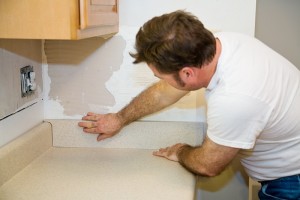 If you're a hands-on landlord, you know that your sweat equity will pay off: Making improvements to your property — without investing in the cost of labor — is a good way to increase the value of your rental units and maximize your profits down the road.
A more appealing home brings in higher rents, and when the competition heats up, sometimes a couple of improvements or new features can increase the chances of a lease renewal­or allow you to raise rents at lease end.
Do-it-yourselfers should consider which­projects to tackle themselves and then prioritize the work based on what will bring the best return on investment. If you ask builders and real estate agents which features sell homes, kitchens and bathrooms are often the top two mentioned. What can the handy landlord do at reasonable expense to improve these rooms­
Refresh your kitchen surfaces
The kitchen is a social room; from dinner parties to after-school homework sessions, people tend to congregate here­and enjoy­a comfortable space. For this reason alone, making it more inviting can make a big difference in the appeal of your rental.
Some­fresh paint, brightened walls or new cabinet fronts can­turn an ordinary kitchen­into a warm gathering place. These are on the easy side of improvement projects and inexpensive as well.
Countertops­are where the action is in the kitchen. There are a number of durable and beautiful materials available to upgrade countertops. Take the measurements to your local big box hardware store to get them ready for relatively easy installation.
Refacing cabinet doors­is an economical alternative to new cabinets or doors. Home improvement stores have measuring guides and kits to help you put a new look on your current cabinet doors.
Combine some new wall colors, upgraded or painted cabinet fronts and countertops to make it look like a completely new room or major remodel.
Update the bathroom
The master bath is the best candidate for improvements. New,­modern wall paint­or­specialty wallpaper­can brighten up the bath considerably.
The­vanity­could get a new top, and perhaps a new tile backsplash, sink and faucet fixtures. If the old shower curtain is boring, think about a­sliding glass shower door. It's not that difficult to install for most tub showers and looks more sophisticated.
Let the light shine in
People just feel better when their rooms are filled with sunlight.­I've mentioned "brightening" rooms with new paint, but there's another way to introduce outdoor light: skylights.
The newer­tubular skylights­are great for the DIY landlord. They do not require any structural work, as they use either a straight hard or a flexible tube to deliver the light from the roof to the ceiling fixture.
Strategically placed skylights can make a huge difference in the feel of a home. Dark hallways can definitely benefit from them, as well as bathrooms and kitchens.
Tubular skylights simply require two round holes, one in the roof and one in the ceiling. It's as easy or easier than installing a roof vent.
Think like a renter
When you're planning these types of smaller projects,­picture yourself living in the home­and imagine what improvements would make your environment more comfortable. Cosmetic improvements add up to make the home more appealing and inviting.
When it comes time to choose between renewing the lease or moving, renters are more likely to stay in a home with a few nice upgrades and a landlord who wants to invest in making the property a desirable place to live —­so bust out your tools and give your rental a little love.
­
­
­